The lakes of Bangalore city: once a wonder, now a garbage dump
There is not much to celebrate about the current state of lakes in Bangalore city. The large amounts of toxic foam on the lakes have recently caught fire, leaving the lake in a devastated condition. The amount of pollution in the lakes of Bangalore city has increased on a large scale, because of rapid industrialization which has let out industrial affluence into the lake, as well as the disposal of detergents into the lake has caused eutrophication. The dumping of sewage into the lake has also led to the pollution of lakes.
In the past, lakes provided drinking water, water needed for irrigational purposes, and a home to various birds and fish. The lake also provided various facilities and jobs such as farming, and fishing. Due to lake pollution, the lakes are no longer able to provide these kinds of facilities.
Currently, the lakes are in extremely poor condition. As per our interview responses the local people of the Bellandur village said that the government officers would come, look at the lake, and just cut corners. Our lakes have been neglected and yet we are not taking any serious action. This is because we are not aware of the consequences because of lake pollution.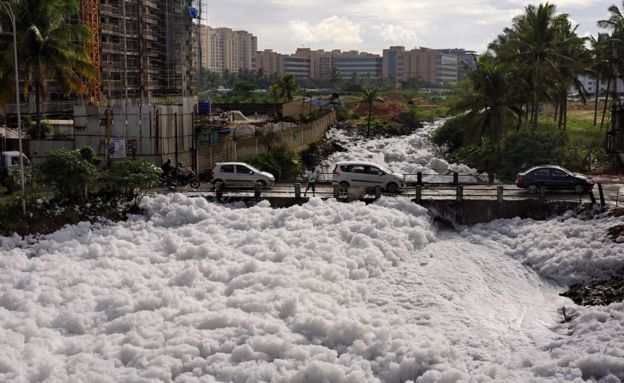 If the citizens of Bangalore further pollute the lakes it will have a very foul result. Foam is extremely toxic and is extremely harmful to small babies as it causes respiratory problems, and the immunity of babies are quite weak. The flying around of foam nearby the lake has caused it to go into the eyes of several people, and as a result, it has made them blind. This may increase drastically, within the next few years if we do not treat the lakes in Bengaluru city
well enough.
If the citizens of Bangalore clean the lakes and decide to take immediate action, Bangalore would not have to face the consequences. It is also a possibility to start planning and making lakes in rural areas that are far away from concrete jungles of the metropolis the idea that the lakes can benefit different people both in their daily lives as well as their professional life (farmers with agriculture). If the lakes of Bangalore city are cleaned, it may once again be able to provide the facilities it did in the past.
Lakes play a vital role in our lives because they are home to many fish species and migratory birds. They also provide water to grow crops and other natural fauna. It is our duty to take care of our lakes as well as maintain them. Now, it is your choice to either not care for this worsening problem or be the change you wish to seek.